Is Disposable Tableware "Tacky" For a Wedding Reception?
Wedding receptions are a time to celebrate but planning it can get pretty stressful. Whether you're a bride and groom planning your own wedding or a wedding planner helping a couple to have a perfect wedding, costs are important. The less money spent on plates, bowls, and silverware the more money there is for other things!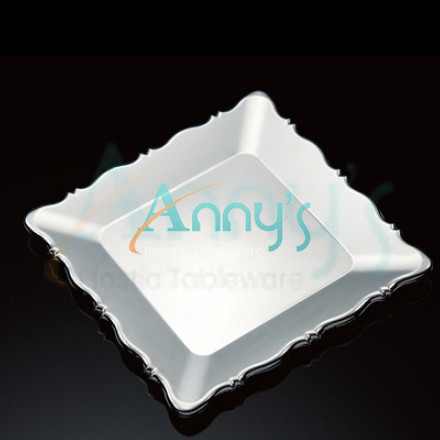 There was a time when using plastic plates and utensils was considered cheap or "tacky" but that's not really the case anymore. Before, your only options for disposable tableware was paper plates or cheap and ugly looking plastic plates. Times have changed!
Instead of buying the regular plastic plates you normally see at the grocery store, which don't exactly look very classy, you want something called "injected plastic plates." They're still very reasonably priced but they come in a variety of different colors and actually look very beautiful. They're more heavyweight so they can handle whatever you serve on them and they look a lot more elegant than other plastic plates.
They do come in colors like red and green, but since this is a wedding you're probably looking for a more elegant and classic look – therefor I recommend taking a look at the wonderful black plates or the white plates that look like they could be regular (non-disposable) plates. They're strong enough that they can be used a few times without needing to be thrown out so they work great if you're doing a buffet style reception.
These plates come in different sizes as well. You can get dinner plates, dessert plates, platters and small plates for appetizers, and even bowls. Just make sure they all match when you order!
What about silverware? You'll definitely need real silverware, right?
Not really. You do want to avoid those the white plastic forks and knives. You can actually get plastic silverware that looks just like real silverware. They're made to be silver and shiny, just like a regular fork yet they're inexpensive and disposable to save you time and money. They also come in gold if that's the theme you're going for.
The only non-disposable silverware you may need are cutting knives if you're having something like steak that a plastic knife can't handle.
The point here is that it's easy to stay classy, save money, and keep clean up easy using disposable tableware as long as you plan ahead and pick out some that looks nice and fits with your theme.